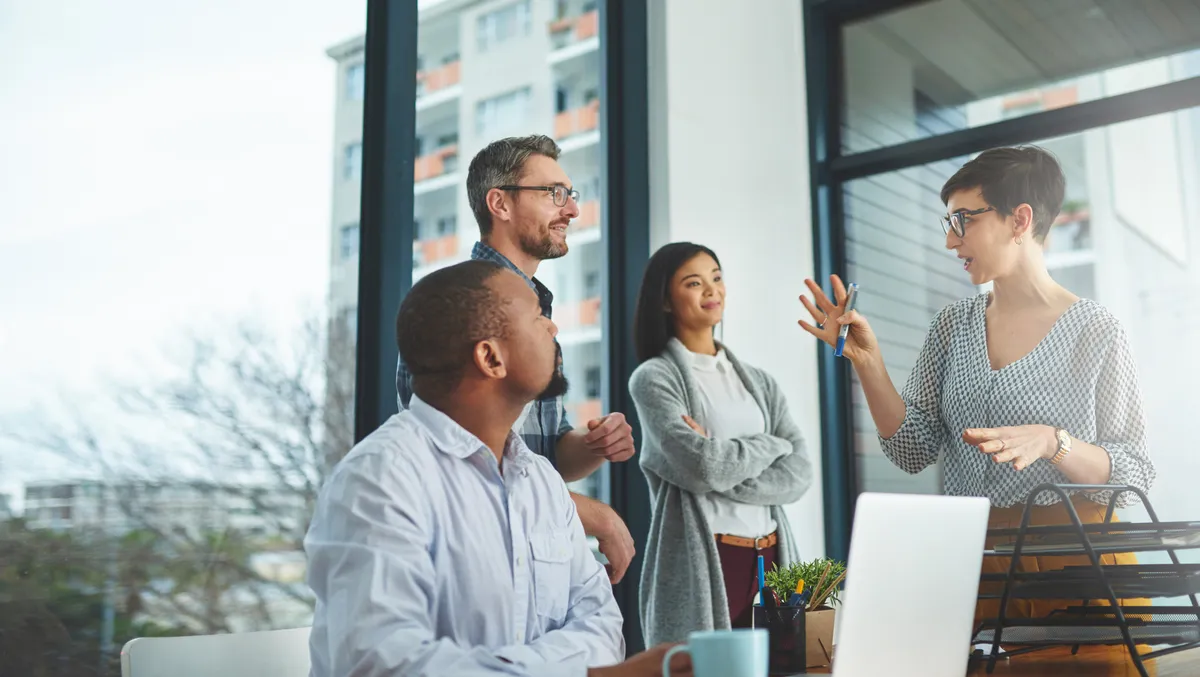 Tech job moves - Bluon, Commvault, Findex, Siemens & Vertiv
We round up all job appointments from August 18-25, 2022, in one place to keep you updated with the latest from across the tech industries.

Amperity (Asia Pacific)
Billy Loizou has been appointed as Asia Pacific area vice president as part of the company's expansion into the APAC market.
Loizou will lead Amperity's sales and marketing efforts and build a team of dedicated experts to help brands in the region make better use of customer data to scale their business.
"By establishing a larger footprint in Australia and across Asia, Amperity will be able to service brands anywhere they are located or doing business," Amperity CEO Barry Padgett says.
"Amperity has seen a huge amount of growth in the region over the past few years as brands grapple with how to put their customer data to better use and leverage it for growth.
"Our customers and prospects in this region will be able to draw from the expertise of Billy and his team from day one, so they can put the power of customer data to work immediately."
With more than 15 years of experience in marketing in both digital and creative agencies, Loizou will be laser-focused on leading a team dedicated to the success of customers in the APAC region.
"Brands have been sold the dream of the 360 degree view of their customer for years. What attracted me to Amperity is that they can actually deliver on that reality," Loizou says.
Five years ago, Amperity set out to solve the massive challenge of unifying messy and complex data sources to help brands use the customer data to better serve their customers and facilitate growth," says Loizou.
"I've seen firsthand how instrumental Amperity is in helping brands make sense of the data chaos by creating pristine customer profiles.
"I look forward to working with Enterprise companies in this region to overcome these obstacles while increasing brand advocacy and loyalty."

Bluon (US)
Adam Curry has been promoted to senior vice president of software and data.
Recognised for his outstanding achievements at Bluon, including being the innovator behind the company's wildly popular mobile app and playing an instrumental role in developing BluonSearch, the most comprehensive cross reference, parts and equipment database tool for HVAC distributors, Curry will oversee the vision, structure and overall UI/UX of Bluon's ever-evolving software product offerings for distributors, technicians and OEMs in his expanded role.
"Adam provides the UI/UX vision behind everything we produce at Bluon. I have never met anyone else like him.
"His ability to make the complex simple and easy, yet elegant is on a different level," Bluon CEO and chairman Peter Capuciati says.
"Adam's outstanding ability to design products that genuinely fit the needs and abilities of our users is fundamental to Bluon and our continued success."
As senior vice president of software and data, Curry will continue to ensure that Bluon's software products set the bar in HVAC for ease and utility and always meet the user's needs.
Interested in how to improve the world through technology from a young age, Curry taught himself to code in high school.
Before joining the Bluon team, he was a researcher at Princeton University, an engineering manager in Germany and a product designer in Silicon Valley.
"Everyone at Bluon is a gifted, high-energy person continuously finding new ways to be innovative, help our users, and enliven the HVAC industry," Curry says.
"Our products are where we pull together all those great ideas and energy. It's a unique challenge to account for all the data, use cases, and engineering inputs, but it's equally exciting and fun and massively rewarding to see the positive impact we're having.
"I'm grateful for the opportunity and the entire Bluon team."

Commvault (New Zealand)
Mark Raos has been appointed as regional account executive.
In his role, Raos will continue to accelerate the company's sales trajectory and is responsible for the go-to-market motion and to expand Commvault's market share across New Zealand.
A veteran of the IT industry, Raos brings with him over 25 years of experience and proven sales leadership track record in consulting services, software, and hardware sales, as well as solutions selling into large NZ enterprises.
With his breadth of industry experience and broad industry network, aligned with a customer-focused and partner-centric mindset, Raos has a strong history of client successes in the IT industry in ANZ. Before joining the company, he held stellar sales leadership roles, most recently at Datacom and Spark / Gen-i, and tenures at Oracle and Sun Micro-Systems.
"We are thrilled to have Mark, with his strong sales leadership, deep local knowledge, and close client and partner network, join us as we build on our sales momentum into the growing SaaS market opportunities," Commvault ANZ area vice president David Rajkovic says.
"New Zealand is an important market for Commvault ANZ, and Mark's appointment reinforces our efforts to drive our market expansion with unrivalled customer experience and help partners and customers realise the power and benefits of Commvault SaaS-based solutions, wherever their data resides.
"I am confident that Mark will help us accelerate market growth and help customers simply complex data management with Commvault's broad and differentiated portfolio that will truly benefit our customers." Rajkovic adds.
"I am excited to join Commvault with its award-winning intelligent data management solutions trusted by over 100,000 customers in their digital transformation and data journey to the cloud." Raos says.
"I look forward to working with our partners to further support Commvault's success and growth in New Zealand.
Equally critical is to deliver industry-recognised data solutions for the benefit of our customers to simplify, manage and extract value from their increasingly complex and evolving data environment." adds Raos.

Concentric AI (US)
Former Fidelis cybersecurity sales executive Daniel Emanuele has been named as the company's first sales senior vice president.
Emanuele will lead the company's expanding sales team by focusing on revenue and market expansion to meet the rapidly increasing demand for Concentric AI's data security posture management solutions.
"Concentric AI continues to transform the data security market, which made my decision to join easy," Emanuele says.
"The entire team, from the executives to our engineers, demonstrates a relentless commitment to customer success.
"I share that passion, and I'm excited to leverage my background and expertise to shape a culture that will serve our customers while growing Concentric AI into the data security market leader."
Emanuele is a seasoned 15-year sales leader with a primary focus on building relationships, leading sales teams with transparency, and solving customer problems in the data security software industry. His experience spans identity and access management (IAM), cyber range training solutions, advanced threat hunting, data loss prevention, and ten years in data access governance.
Prior to joining Concentric AI, Emanuele spent three years with Fidelis Cybersecurity, where he led the North American and LATAM sales organisation with consistent growth and success. He also served for three years providing cyber warriors with the hands-on cyber range training they need to stay effective in an ever-changing threat landscape.
Before that, he spent ten years leading the North American Sales team at Stealthbits and building out the North Central US territory for Varonis. He holds a bachelor's degree in Business from Wagner College in New York.
"We are excited to welcome Dan to Concentric AI, where his background, expertise, and years of successful sales in the data security sector will accelerate our success," Concentric AI founder and CEO Karthik Krishnan says.
"Demand is increasing for our data security posture management solutions as organisations struggle to protect their data and sensitive information.
"We look forward to leveraging Dan's experience and industry contacts as Concentric AI enters a challenging new growth phase."

Datacom (New Zealand)
Peter Nelson has been appointed as SaaS products managing director to lead the company's three software product businesses: Datapay, Smartly and Datascape.
Nelson joined Datacom eight years ago, working in its Technology Services New Zealand business before shifting to the products business to lead the local government solution Datascape and recently taking on the role of Datapay acting head.
Datacom CEO Greg Davidson says there is a breadth of expertise and talent working across each of the SaaS businesses, and it makes sense to bring them together as a portfolio to ensure the best thinking and processes are being applied across each business for optimum results.
"We have made a strategic long-term commitment to invest and build a portfolio of products to meet the needs of our local New Zealand and Australian customers, specifically targeting areas of demand where global investment wasn't focused on developing suitable solutions due to the size of our markets and other investment priorities," Davidson says.
"Each of Datacom's SaaS products speak to the specific needs of a well-defined group of customers and as a result have seen strong growth and achieved the scale that is critical to success," Nelson says.
"It is particularly exciting to see them coming together in a portfolio to make the most of our deep capability in product management and engineering, and to support rewarding careers for our people.
"Datacom is rapidly emerging as a SaaS powerhouse in Australia and New Zealand, which complements our role as a trusted provider of technology services."
Nelson will work with the existing leadership teams of the SaaS businesses, including Smartly CEO Melissa Cheals, who will continue to lead her team and promote the small business payroll offering as an independent brand. Datacom will also appoint a director for Datapay, to replace the acting head role.

Findex (Australia)
The company has announced a significant expansion of its senior executive team as it moves to take advantage of the major opportunities emerging from Australia's wealth management sector after the Hayne Royal Commission.
Findex co-founder Spiro Paule has appointed Co-CEOs in company veterans chief operations officer Tony Roussos and chief financial officer Matt Games in a move to bolster the leadership team to capture this opportunity.
"With the growth momentum we have behind us, our investment in leadership capability at this time will help the business capitalise on the strategic growth opportunities available whilst allowing me to step back from day to day operations," Paule says.
"I will continue to work closely with our longstanding Board and executive team to drive the strategic direction of the business."
The new Co-CEOs will act as joint custodians for Findex's new chapter.
Roussos and Games have been pivotal to Findex's transformational M-A strategy, overseeing 63 acquisitions with key operational input during their working partnership, including global accounting firm Crowe Australasia and wealth management leader Centric Wealth. This has resulted in the business growing from a team of 50 people to nearly 3000 across 100 locations since 2008.
"As one of Findex's first employees, it is a privilege to be given the opportunity to be custodian for the business as we look to activate our next stage of growth," Roussos says.
"When I left Macquarie Bank to join Findex as CFO 15 years ago, I was attracted to its entrepreneurial vision combined with the strong family values instilled by founders, Spiro and Terry Paule," Games says.
"As an executive team, we've always worked together under the strategic guidance of Spiro to leverage our complementary skills and I'm looking forward to continuing my strong partnership with Tony to drive the business on its next stage of growth."

FM Global (US)
Thomas J. Quinlan III, president and CEO of R.R. Donnelley - Sons Company, has been elected to the board of directors of commercial property insurer FM Global.
FM Global's board comprises executives from the world's most sophisticated manufacturing, distribution and service organisations.
Client-owners, who share the belief that the majority of property loss is preventable, represent many of the world's largest organisations, including one of every three Fortune 500 companies.
"Tom brings significant experience leading and growing major business-to-business companies like those that many of our clients operate," FM Global Board Chairman Thomas A. Lawson says.
"He deeply understands the value of choosing resilience to maximise long-term organisational value. He will be a tremendous asset for our company and client-owners."
Quinlan has guided companies through challenging business cycles during his career by transforming, growing and recapitalising business-to-business manufacturing and services businesses.
He has specialised expertise in rebranding traditional businesses and pivoting physical content into the digital space by leveraging digital marketing, data analytics, business intelligence and data management solutions. He holds an MBA in finance from St. John's University and a bachelor's degree in business administration from Pace University.
Other members of FM Global's board of directors include Textron executive vice president and CFO Frank T. Connor, Premier Foods chairman Colin Day, Verallia SA chairman and CEO Michel Giannuzzi, Corrugated Supplies Company president and COO Glenn R. Landau, FM Global chairman Thomas A. Lawson, WestRock Company retired chairman John A. Luke Jr., TEGNA retired president and CEO Gracia C. Martore, The Walt Disney Company senior executive vice president and CFO Christine M. McCarthy, FM Global president and CEO Malcolm C. Roberts, MIT Engine founding chairman, former executive vice president and treasurer Israel Ruiz, and Caterpillar Financial Services Corporation president and CEO David T. Walton.

Genesys (New Zealand)
Kim Duncan has been appointed as New Zealand partner account director.
Duncan will be responsible for building Genesys' local partner ecosystem by establishing new go-to-market routes and deepening strategic technology alliances and will report to Vaughan Webster, Genesys' ANZ partner director based out of Sydney.
"Kim's deep expertise of the partner ecosystem in New Zealand, strong background in sales and business development and track record of success, are assets for us to capitalise on our success in the New Zealand market," Webster says.
"With her local knowledge and proven ability to build considered sales strategies, Kim will leverage our broad ecosystem of Reseller and AppFoundry Partners to lead our robust partner program initiatives and grow our market share via our Partner network."
Duncan brings over 20 years of experience in the Information and Communication Technology industry in both local and international markets.
She was previously at Amazon Web Services NZ, working closely with Global SaaS organisations, where she was responsible for engaging C-suite and line of business stakeholders to develop long-term sustainable revenue growth partnerships.
Before that, Duncan was the mid-market sector lead at Cisco NZ, where she was responsible for both direct and partner programs aligned to help drive sustainable revenue streams across multiple industry verticals within the NZ/AU and Pacific Islands partner ecosystem.
"I am excited to lead the partner efforts for Genesys in New Zealand and be part of the company's next phase of growth," Duncan says.
"Over the past four years, I have specialised in strategic engagements and creations of new sales and partner models to support domestic and international growth.
"I look forward to bringing my experience, knowledge and connections in sales and partner management to help drive pipeline creation with Genesys' existing, and potential new partners."

Phronesis Security (Australia)
Barry Grek has been appointed as governance, risk and compliance director.
Grek joins the firm to drive the development of its strategic advisory services, with a focus on culture-centric cyber strategies, risk management programs, and IRAP and PCI services.
With over 25 years of experience, including leadership roles at industry mainstays Trustwave, Hivint, and BAE Systems, Grek has proven successful at scaling up cyber startups and growing established businesses.
Phronesis Security Chief Realist (CEO) and founder Elliot Dellys believes the appointment will be pivotal in continuing to accelerate the firm's impressive growth while maintaining the highest standards of service delivery.
"There are few people that understand cyber security in Australia better than Barry," Dellys says.
"Equally importantly, Barry shares our vision of cyber security for good. Culture is vitally important for us and having someone of his calibre that shares our ethos is a game-changer."
"I'm really excited to be joining Phronesis Security and working with Elliot again, who is building an organisation with shared core values and an ethos of doing things for the betterment of those around us," says Grek.
"What also attracted me is that Phronesis Security has built this into the fundamental operations of the business and its culture."

Position Imaging (US)
Lucas Carvalho has been appointed as senior vice president of operations.
Carvalho will lead all Global Operations, Service, Fulfillment, and Human Resources across all of Position Imaging's business units.
His mission is to build a world-class organisation committed to delivering exceptional products, hiring the best talent, and implementing best practices to drive scalability to meet customers' needs worldwide.
"Position Imaging has a world-class engineering team that continues to achieve US Patents for innovative technology and a workforce that is motivated to succeed," Carvalho says.
"I look forward to building strong relationships and enhancing the collaborative team environment while retaining the flexibility small companies are known for."
Before joining Position Imaging, Carvalho, in his role as Corporate Resources executive vice president, spent 17 years leading the team at BAMSI, an organisation with over 2,000 employees operating out of 120 locations throughout Massachusetts. He was critical in building leadership and collaboration across Human Resources, Product Development, Real Estate and Financing, Facilities Management, Service - Fulfillment, and Fleet Management. Under his leadership, the company's revenue grew from approximately $30 million to $100 million.
"Lucas Carvalho is a world-class leader and collaborator, who is filling a critical role to bring Position Imaging to the next generation of products, talent, and organisational structure needed to meet our corporate and financial goals," Position Imaging founder and CEO Ned Hill says.
"We are excited to welcome Lucas to our expanding team of executives and look forward to his insights and contributions."

Princeton Digital Group (Japan)
Kenji Hioki has been appointed as executive advisor for Japan.
Hioki will provide strategic support to PDG in building its business as the company forms its management team in Japan.
Hioki is an ICT industry veteran with a solid track record in Asia, having been a pioneer in the data centre market in Japan. He has held several leadership positions in the industry, most recently as Colt Technology Services Asia vice chairman.
"I am excited to have Kenji Hioki as a part of my extended leadership team as we build our presence in Japan, a strategic market for PDG," Princeton Digital Group chairman and CEO Rangu Salgame says.
"With his experience and relationships, Kenji will help enhance our presence as a major hyperscale data centre player in Japan to support the rapid growth of both local and global hyperscalers."
PDG recently announced the commencement of construction on a ~100 MW data centre campus in Saitama city, north of central Tokyo.
Hioki's appointment comes at the right time as PDG establishes its presence as a leading Pan Asia player in the Japanese data centre market.
"I am thrilled to join PDG as it builds scale across markets in Asia. I am impressed with PDG's game changing strategy of building Saitama as a data center hub to serve the Tokyo market demand," Hioki says.
"I am looking forward to support PDG's ambitions of scaling further in Japan."

SailPoint (New Zealand)
Raymond Dickinson has been hired as the company's first New Zealand country leader.
Dickinson's appointment will build on SailPoint's strong market position and support SailPoint's continued growth in New Zealand.
"Due to strong demand across New Zealand organisations acknowledging risks within their 'insider-threat' landscape, we recognise the need for leading talent on the ground to support our customers in their identity security journey.
"We're thrilled to have Raymond join us to help protect Kiwi companies and deliver an intelligent, autonomous identity foundation that fuels their business and accelerates their transformation," SailPoint Australia - New Zealand country manager Nam Lam says.
"Raymond brings valuable knowledge and experience in the enterprise technology sector in New Zealand and has a strong track record of helping enterprises achieve their identity security objectives.
"With his expertise and growth mindset, I believe Raymond will deliver value for our customers as we work together to grow the SailPoint business in New Zealand."
Dickinson brings over 20 years of enterprise technology experience and was most recently Team Leader Major Accounts at Fortinet, where he managed several large enterprise customers.
Before Fortinet, Raymond held various sales and senior leadership roles at The Greater Knowledge Company (GKC), Fujitsu and Infinity Solutions.
He has also been a Member of the Board of Trustees at Fragile X New Zealand Trust for almost five years.
"I'm honoured to join SailPoint as it's the leading provider of identity security for the modern enterprise," Dickinson says.
"I am eager to support organisations in New Zealand as they work to secure and manage all of their identities across all technology and cloud resource access needs.
As SailPoint continues to take identity security to the next level, I look forward to building a strong team to help enterprises develop a solid security strategy that is secure and compliant."

Siemens (Australia)
Peter Halliday, currently Siemens Smart Infrastructure senior vice president, has been appointed as the new chairman and chief executive officer (CEO) for the region, effective September 1, 2022.
In a career spanning 24 years at Siemens, Halliday has held senior roles within the company in Australia, Asia and Europe.
Before relocating back to his home country of Australia, Halliday was the global head of Siemens' Building Performance and Sustainability division operating out of Switzerland.
Halliday brings a wealth of experience across various technology fields, including engineering, project management, sales, business development, portfolio and senior management.
Current Siemens Australia chairman and CEO Jeff Connolly will leave the company on August 31 after a career of over 37 years with Siemens.
"We are pleased to confirm Peter as the new CEO for Siemens Australia," Siemens AG managing board member Matthias Rebellius says.
"Peter's extensive local and global leadership and technical experience will be pivotal to shaping future growth and the digital transformation of our customers in Australia and New Zealand.
"I also want to thank Jeff Connolly for his incredible contribution to shaping the brand and reputation of Siemens in the region.
"Jeff is not only highly regarded in Siemens but also across industry and government for his contributions to progressing critical topics related to manufacturing and Industry 4.0, the energy transition including hydrogen and the need for intelligent infrastructure in Australia," Rebellious adds.
"This is an exciting opportunity, and I am looking forward to working with the great team in the region to progress the company towards its next phase of growth," Halliday says.
"Technology and digitalisation will accelerate much needed outcomes for industry, infrastructure, and the environment."

SmartBear (US and UK)
World-class AI leader Jim Wu has been hired as AI and data science vice president, working in the SmartBear Innovation Labs, and product management leader Anthony Bryce as product management vice president.
Both are supporting the company's strategy to provide critically-needed visibility for developers to manage quality outcomes across the entire software development lifecycle (SDLC) as the market shifts to modern developer-led practices, Wu previously served Nuance Communications for more than 14 years, most recently as VP, Corporate Research.
Bryce served BMC Software for 12 years, most recently as product management director.
"With the growing complexity of technology, like public cloud infrastructure and the move to microservices-based applications, it has become increasingly difficult for development teams to problem solve when applications go awry for end users," SmartBear chief product officer Dan Faulkner says.
"We are thrilled to welcome Jim and Anthony, who will lead efforts to accelerate confidence and quality across the entire SDLC by augmenting our popular tools that support modern developer-led practices.
"This will ensure SmartBear continues to meet development teams where they are, providing the tools and useful insights they need to deliver optimum application performance while enabling developers to get back to doing the work that matters most."
Based in Somerville, Massachusetts, Wu brings more than 20 years of R-D experience in machine learning (ML), neural networks, automatic speech recognition, natural language processing (NLP), and other related fields in AI.
Bryce is based in Bath, England and brings more than 20 years of product leadership experience, primarily in IT service management, IT operations, and cybersecurity markets. Previous to his BMC employment, Anthony served as Head of Product Management at Micro Focus, as well as worked with early startups in various product management and product marketing roles.

Tangerine Telecom (Australia)
Nine money-saving columnist and author Joel Gibson has joined the team at Tangerine as the brand's first ambassador.
To kick off the partnership, Tangerine is launching a series of 'Squeeze Test' videos hosted by Gibson to help customers get the most juice out of their NBN plan.
Gibson will also act as media spokesperson for Tangerine, specifically commenting on money-saving hacks and navigating through the Tangerine customer journey for existing and new customers.
Gibson has blended right into the Tangerine team with his trademark red hair and great sense of humour.
Tangerine head of marketing Rick van Emmerik says Gibson is the perfect match for the brand and has brought a wealth of money-saving knowledge to the business.
"Joel's book, Kill Bills, shows just how passionate he is about helping everyday Australians save money which is the essence of our Tangerine brand.
"The first four videos have been produced in close association with Joel and have tapped into his expertise and also his personality."

Vertiv (US)
Cheryl Lim has been named the company's new chief human resources officer (CHRO).
Lim will report directly to CEO Rob Johnson and lead the development and execution of HR strategy in support of Vertiv's business goals.
Lim brings more than two decades of experience leading human resources teams, supporting organisational transformation, and supplying data-driven insights for global HR operations in the manufacturing space.
Prior to joining Vertiv, Lim spent more than 20 years holding various HR leadership positions at Honeywell and was most recently the vice president of Human Resources at ITT.
"Cheryl is an accomplished leader with extensive experience developing and executing high-level HR vision, strategy and results," Johnson says.
"Her tremendous knowledge, backed by a successful track record of leading teams, acquiring talent and managing change across large global companies, will support the high-performing culture that is Vertiv's backbone," he adds.
"Vertiv's leaders have a vision for employee growth and well-being that aligns perfectly with the philosophy I followed during my more than 20 years in HR leadership," Lim says.
"I am excited to have the opportunity to work with a team of forward-thinking individuals and to implement strategies to help Vertiv support the organisation."
Lim earned a joint bachelor's degree in German and management studies from the University of Leeds and a master's degree in business administration from Pepperdine Graziadio Business School.

VPLS (US)
The company has expanded its leadership team, adding three core members to its management team, including systems vice president Mark Hassman, global marketing vice president Renée Lawrence and network engineering vice president Steve Rubin.
Hassman, Lawrence and Rubin bring complementary digital infrastructure experience to the company, fortifying operations, product and service capabilities, marketing, and customer experience for VPLS's global roster of customers.
Hassman brings more than 25 years of Internet technology experience to his new role.
"I'm pleased to bring the cumulation of my experience in systems architecture, automation, and infrastructure services to VPLS," Hassman says.
"Our colocation solutions, combined with our broad data centre footprint, global network backbone, capabilities for private, public, and hybrid cloud, and managed services offer companies exceptional options for their evolving digital infrastructure requirements."
Renée Lawrence is corporate communication and brand strategist. She brings to this role extensive experience in product and solutions marketing, product management, partner program development, digital marketing, and competitive insights and analytics.
"I am very happy to be joining the team at VPLS. It's an exciting time for our organisation, and I'm looking forward to bringing our brand and our product and services portfolio into this next phase of our growth," Lawrence says.
Steve Rubin's more than 30 years of experience in the digital infrastructure industry brings core backbone engineering, data centre connectivity, hardware, software, and cloud interconnection expertise to his new role.
"I am thrilled to be fortifying the VPLS network infrastructure as we focus on scale and security," Rubin says.
"Our clients are confronted with challenging network and security decisions and it's an honour to be a trusted partner, advisor and resource."

WP Engine (US)
Proven product and innovation leader Ezinne Udezue has been appointed as chief product officer, leading product strategy and management across the company's WordPress technology brands and developer solutions.
Ramadass Prabhakar, who has served as global engineering senior vice president for the past two years, has been elevated to chief technology officer, leading the company's engineering and technology focus.
Jason Cohen, WP Engine's founder, has been appointed as the company's first chief innovation officer, focusing on the intersection of technology innovation and company strategy.
At WP Engine, Udezue will lead the strategy and development of customer-inspired products, with a focus on making WP Engine the ultimate destination for WordPress site builders to accelerate and simplify the complete design-build-power-optimise lifecycle.
"I am thrilled to lead such a talented team working in some of the most influential technology today," said Ezinne Udezue.
"Our masterful product development teams give marketers, developers and builders the tools and environment to create with freedom and without limits.
"Prabhakar is a technology leader who brings more than 20 years of experience at companies like Adobe, Magento, and Bazaarvoice leading multiple, cross-functional and geographically-dispersed teams.
"Taking over the CTO reins from our founder Jason means big shoes for anyone to fill, but I'm thrilled at the prospect of driving WP Engine's position as the technology leader in WordPress," Prabhakar says.
"Our teams are powering the freedom to create and unlocking new innovations in WordPress, headless, and eCommerce.
"We are building the very foundations of the modern web to come and defining our digital future."
In his new role, Cohen will focus on the intersection of corporate and technology strategies as well as continue as the company's executive sponsor for the headless platform, Atlas.
"The web is changing once again, and tech companies like ours need to be agile," Cohen says.
"A deeper focus on innovation is key to ensuring our teams, our partners and our customers stay competitive in this new world."