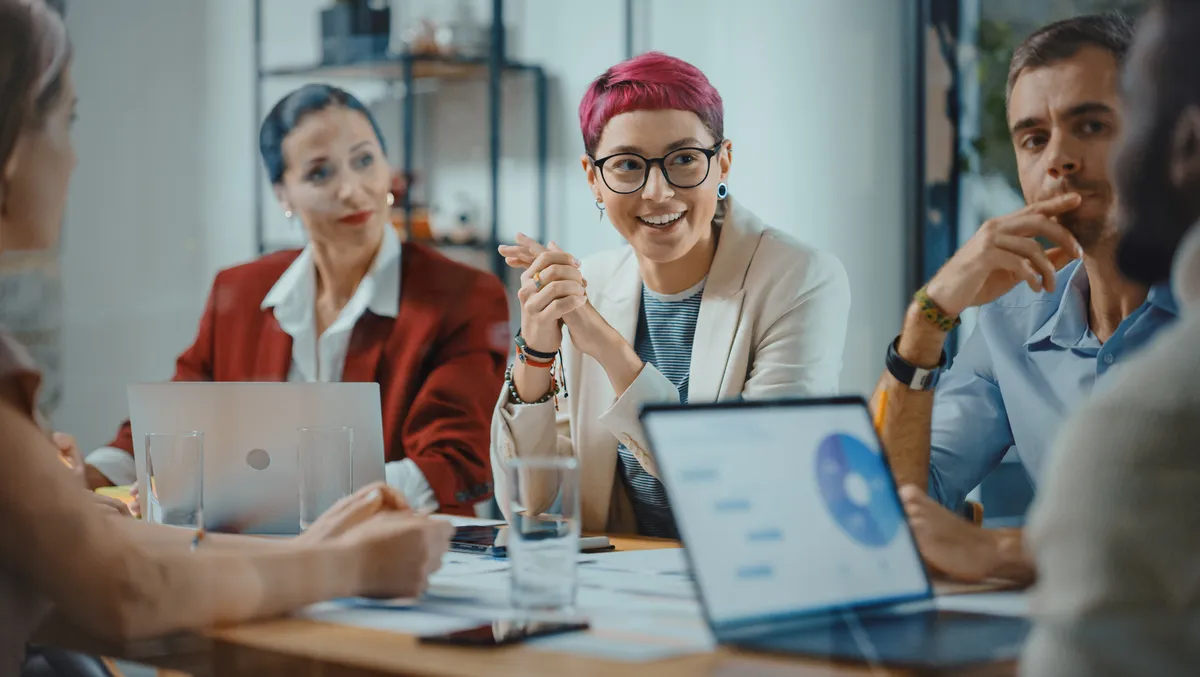 Atlassian Work Futurist: "Teamwork is essential, but it's hard"
Wed, 26th Oct 2022
FYI, this story is more than a year old
Atlassian's Work Futurist reveals proven methods that all professionals can leverage to successfully navigate a digital age work environment at The Tax Summit 2022.
Atlassian's 'Work Futurist' Dominic Price handed out a proverbial "goodie bag" of actionable tips professionals can leverage to thrive in the modern business landscape recently at The Tax Summit 2022, presented by The Tax Institute.
In the post-pandemic world, it often feels like a race to do everything better, faster and oftentimes, remotely. Price's keynote address, informed by a long stint working for a relatively conservative professional services firm followed by almost a decade spent helping build Atlassian from a start-up to one of the world's biggest technology companies, offered a new and inspirational way forward. Price took the audience through:
Understanding what it takes to be a better teammate
Strategies for managing a distributed workforce
A game-changing '5 L's' exercise to prevent burnout and maximise efficiency
Why you should "argue like you're right, but listen like you're wrong"
More than just theories, Price's tips are the result of years of trial-and-error at Atlassian. The tech giant went completely remote in 2020 and managed to double its workforce in the first 18 months of the pandemic. Post-lockdowns, over 50% of its new hires have been remote workers.
Being a better teammate means being selfish
Price started by offering the following advice:
"My encouragement to you is to start by unleashing your potential first. You have to be slightly selfish and be the best version of you and continually evolve and experiment that version of you.
Only after scrutinising yourself can you help others, Price observed. After a period of self-examination, "You need to turn up in your team and be that force multiplier," he said. "Ask yourself, how might we as a team get one degree better every week? Not ten degrees but only one degree better. You build one degree every week, your team will start kicking goals, right?
"How do you build that into the broader system so you have the end impact that you want?" Price asked. "I think if you do it in [the correct] sequence, you will genuinely unleash the potential of your team and the organisation."
"I want to ask you all to be incredibly selfish," Price said. "It's weird because a lot of the thought leadership out right now is about being selfless, and how you can help others. But you can't help others until you've helped yourself. You have to put your oxygen mask on before you can help anyone else."
Teamwork is "painfully hard"
Price revealed he's very passionate about teamwork and doesn't believe in 'the lone genius'.
"We all know we need teamwork, but we don't always acknowledge how painfully hard it is," Price said. "We kind of missed the point that when you get a diverse set of people together with different opinions and viewpoints, they conflict. We have this hope that the conflict causes innovation. But no, a lot of times that conflict causes angst. Teamwork is essential, but it's hard."
Drawing on research another giant tech company – Google – had conducted, Price expounded on why psychological safety is key to high-performing teams: "Psychological safety is not high fives all around," he said. "Psychological safety is two things: Am I comfortable being me – a true, authentic version of me, and can I speak up without recourse?
"When you see a psychologically safe team, they're arguing. They're going into headlocks. They're debating ferociously but with a shared intent – not to win, not to be right, but to do better."
Modern-day leadership in a distributed world
Price argues that meetings are oftentimes better when the manager doesn't attend. "When I stopped going to meetings, my teammates stepped up. I was stopping them from being effective," he explained. "When I went into the meeting, they assumed I would make the decision. But when I stopped being there, the meeting didn't crash, it got better."
Price noted that, while it may come as a blow to the managerial ego, it's ok because effective leaders want a meeting to be successful rather than to feel indispensable. One of the upsides of empowering your team members as a leader is that you can spend less time in meetings and more time in higher-value activities that have the potential to really move the needle.
A game-changing '5 Ls' exercise to make better use of your time
To be the best version of yourself and be a "force multiplier", Price advises doing the 4 Ls exercise. He has done it every 90 days for the last four years. Reflecting on the past three months, you ask yourself four questions:
Loved: What were the things you did as a manager and mentor, that you loved? "Life is too short to just like things," he said. "So I ask myself, What's the thing that I did as a leader that made an impact on the person or on the team? You need to know the thing that is totally your superpower."
Longed For: Identify the things you wish you were doing more and do more of them.
Loathed: Identify the things you most dislike doing and remove them. "The best way of driving personal change in the modern world is subtraction – not addition, subtraction," he said. "Find the things that aren't valuable and stop doing them. One of the things we have in common is 24 hours a day. The biggest thing that we should be prioritising is spending our time on the most valuable, high-impact stuff. To do that, subtraction is your friend."
Learnt: "There's all this rhetoric out there that humans struggle with change," Price said. "I want to call BS on that. We're really good at adapting when we give ourselves a chance. But ask yourself, 'What did I learn?' Look to learn when things go wrong. It means you're pushing subtle boundaries. This is all about you being the best version of yourself."
Laugh at: "What's the thing that in the last 90 days has given you that belly laugh way you did you got indigestion, right? If we're not laughing and enjoying something we're doing, what is the point? We all have a habit of taking life too seriously.
"Argue like you're right, but listen like you're wrong"
Instead of being quiet in meetings, share your ideas with a huge amount of passion, Price advised. Share your ideas and then invite the dissent. That's where the magic happens because your team will almost always build on and improve the idea.
"When I go into a meeting, I argue like I'm right, but listen like I'm wrong. The idea we come out with very rarely resembles the one I walked in with. And it's normally always a lot better."