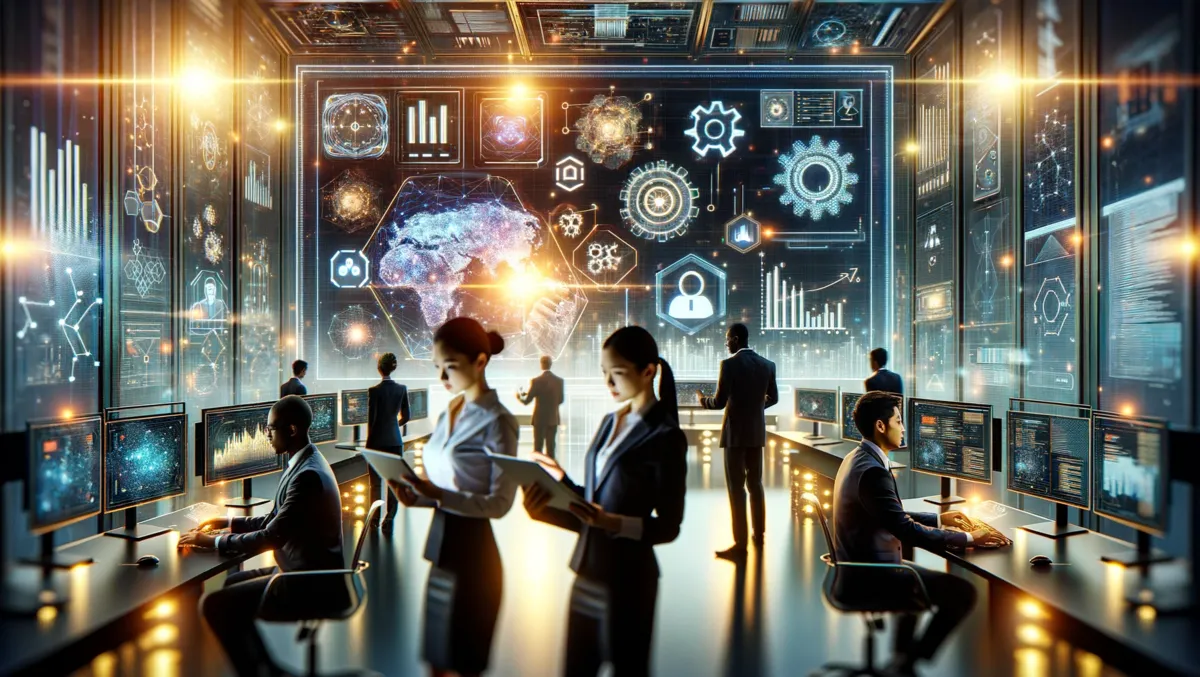 UiPath unveils transformative Business Automation Platform with AI capabilities
Thu, 9th Nov 2023
By Sean Mitchell, Publisher
UiPath promises to revolutionise the enterprise by delivering real value through automation and Artificial Intelligence (AI). The latest platform features aim to automate millions of tasks and thousands of processes across the enterprise, sparking new ideas and boosting worker productivity.
The powerful capabilities embedded in the 2023.10 platform release offer enterprise-wide transformation. It makes use of Specialised AI and Generative AI, lends new tools for developers and enhances the UiPath Automation Cloud. The first-of-its-kind platform serves as a radical step towards operationalising AI and automation in the business sector.
A recent survey co-authored by UiPath and Bain & Co. confirms the accelerating AI impact on businesses. Over two-thirds of those surveyed (70%) agreed that AI-assisted automation is either very crucial or essential in realising their organisation's strategic goals. Moreover, three-quarters (74%) anticipate a positive return on their investment in automation. However, according to a McKinsey report, nearly half of organisations (45%) are yet to implement AI at scale, indicating a substantial gap between recognition and application of AI in business operations.
UiPath's new set of features significantly bridges this gap, additional innovations make AI accessibility simpler and faster, rendering the gap between vision and application less daunting. They offer a convenient path for businesses to identify automation opportunities and augment the scope of automation.
The newly featured UiPath Autopilot purports to enhance productivity by exploiting the combined potential of Generative AI and Specialised AI for both beginners and seasoned developers and testers. The revamped UiPath Document Understanding offers Gen AI extraction, classification, and model pre-labeling, augmenting model training by a staggering 80%. Furthermore, UiPath Communications Mining uses a mix of Specialised AI and Gen AI to expedite responses to reporting and analytics enquiries, providing improved business insights.
Improved tooling and testing capabilities are the heart of this platform update. They facilitate a quick conversion of AI insights into practical business automation. The release includes the facility of coded automation, a new Solutions Management feature that smoothens maintenance and updates. Another significant amendment is the standardisation of VB expressions across UiPath Apps and UiPath Studio, providing more power and flexibility for developers.
New features deliver deeper insights into workforce and process dynamics, as well as automation and its interactions. For instance, UiPath Process Mining now offers a model-based process graph that accurately represents business processes. The new enhancements offer improved visibility into both human workforce dynamics and bots performing automated tasks, enabling early detection of operational inefficiencies, compliance issues, and areas of potential improvement in manual and automated processes.
The UiPath Automation Cloud, founded on an enterprise-grade basis, supports the operation of a critical automation programme on a large scale with the simplicity of Software-as-a-Service (SaaS). Key improvements include SAP Endorsed Certification, a new unattended robot configuration, role/permission features, and Automated domain join, among others.