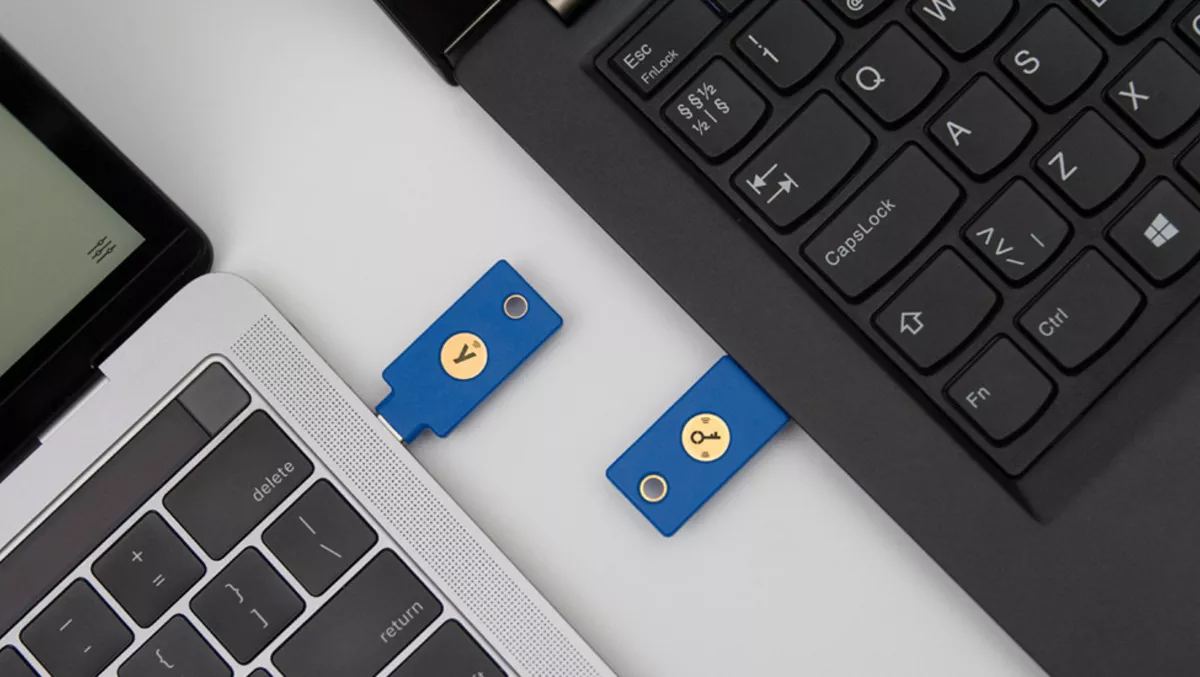 Yubico launches hardware security key with NFC & FIDO support
Fri, 5th Nov 2021
FYI, this story is more than a year old
Yubico has updated its hardware security keys with near-field communication (NFC) technologies to support devices with NFC functionality, such as mobile phones.
The Security Key C NFC is blue in colour and offers FIDO-only support with USB-C connectivity and NFC for hardware-based security across applications, user accounts, and services for any device that can recognise NFC transmission. The separate Security Key NFC is also available for those who have USB-A devices.
According to Yubico, both devices support FIDO U2F and FIDO2/WebAuthn, which is based on the Yubico invention of enabling one single authenticator to work across any number of applications.
FIDO-based authentication, which enables password-only logins to be replaced with secure and fast login experiences across websites and apps, has been proven to protect against phishing and man-in-the-middle attacks.
The Security Key C NFC:
Works out-of-the-box to provide modern, physical authentication.
Secures accounts that support FIDO U2F or FIDO2/WebAuthn authentication protocols. The Security Key C NFC works with hundreds of popular websites and applications including Gmail, YouTube, Dropbox, Twitter, Coinbase, Microsoft accounts (such as Office 365, Xbox live, etc.), and much more.
Works with a growing list of password managers, social media networks, productivity and business applications, and cryptocurrency exchanges.
Supports NFC for tap and go authentication into supported accounts.
Provides hardware-based authentication across desktop and mobile.
Provides a water and crush-resistant keychain based security key.
Last month, Yubico released the YubiKey Bio, a hardware device that supports fingerprint recognition and does not require any additional software.
The YubiKey Bio enables biometric login on desktop with all applications and services that support FIDO protocols. It works out-of-the-box with Citrix Workspace, Duo, GitHub, IBM Security Verify, Microsoft Azure Active Directory and Microsoft 365, Okta and Ping Identity. With the growing adoption of modern authentication, Yubico continues to work closely with its partner ecosystem to encourage support of biometric authentication as detailed in the WebAuthn and FIDO2 specs.
The company also announced the expansion of its YubiEnterprise Delivery service, which is now available in 49 countries including Australia, Hong Kong, India, Indonesia, Japan, New Zealand, Philippines, Singapore, Taiwan, and Thailand.
"With the addition of these new countries, broad global coverage, and new API integrations, Yubico remains committed to helping companies around the world with the ongoing challenges of distributed employees and ensuring strong authentication across users and devices. We're excited for these moves and look forward to continuing to invest in future enhancements and capabilities to help YubiEnterprise Delivery customers," the company states.